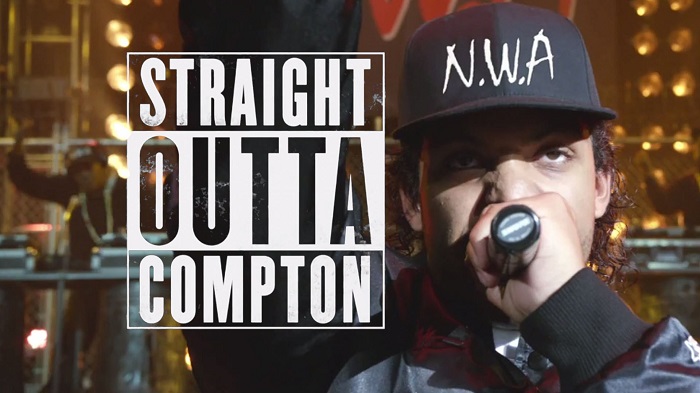 Community Post: This article was submitted by a member of our community. Find out how you can publish your own writing here!

Biopics are tricky business. They're even more tricky when the subjects of the film are doubling as producers. The risk is a conflict of interest. Do you approve a script that isn't as kind? Do you demand to be the hero?
In Straight Outta Compton, a movie about the rise and fall of hip hop pioneers N.W.A., this is a serious concern. How can Ice Cube and Dr. Dre be accurately represented when they're paying for the flick? Maybe we'll never know but I do know this: Straight Outta Compton documents the birth of gangsta rap through the eyes of the architects with electric, stirring results.
The film follows the founding members of N.W.A. through their formation, rise to prominence and eventual fall from grace. Powered by Dr Dre's, killer beats, Ice Cube's scathing rhymes and the towering personality of Eazy E, NWA was the toast of Compton. But when a music promoter (Paul Giamatti) offers to take them nationwide, things begin to break apart.
While the plot structure is standard "rise and fall" fare, Compton rises above ho hum thanks to a wonderfully selected cast. Corey Hawkins has a stoic power as Dre, Jason Mitchell channels Eazy E's wild P.T. Barnum showmanship and O'Shea Jackson Jr. looks and acts just like his dad, Ice Cube. Along with MC Ren (Aldis Hodge) and DJ Yella (Neil Brown), the quintet feels like a real musical family, with all of the joy and drama that comes with it.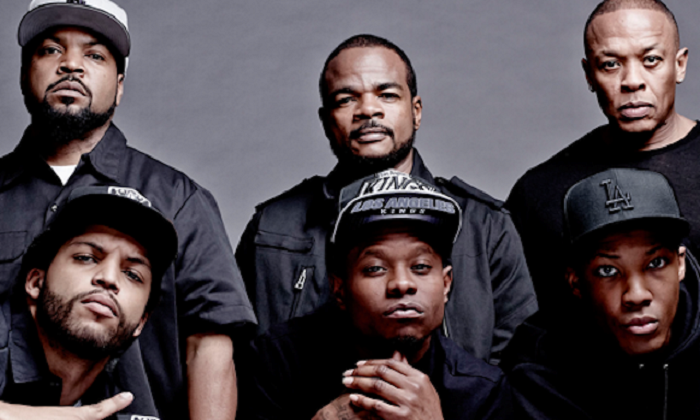 And man, is there drama. From disputes over royalties to tragic losses, Compton is brimming with tangible tension. Powerful, painful moments are delivered with the right levels of pathos and intensity without dipping into melodrama. And while Dre and Ice Cube are clearly written as the heroes, victims and eventual winners, the movie never feels like the vanity project it could have been.
The real star of the show is a thunderous, back breaking soundtrack that amplifies the themes of visceral rebellion and social change. Whether they're inciting riots in Detroit or jamming in the studio, the actors project the group's musical chemistry brilliantly. Start your neck stretches now. Your head will be bobbing for much of the movies slightly bloated two and a half hour runtime.
The result is satisfying and illuminating. Director F. Gary Gray (Friday, The Italian Job) has crafted a stunning portrayal of a musical tipping point and the personalities behind the revolution. Soulful and poignant with a knockout cast, Straight Outta Compton will satisfy hip hop heads and newbies alike. It may not have the accuracy of a PBS documentary, but it's compelling drama nonetheless.
Community Post: This article was submitted by a member of our community. The views expressed are the opinions of the designated author, and do not reflect the opinions of the Overmental as a whole or any other individual. We will gladly cooperate in the removal of plagiarism or any copyright infringement. Please contact us here.
Positives
The cast not only looks like the group's younger selves, they have the personality to match. An incredible soundtrack bolsters the theme of social change. The emotional story never dips into melodrama.
Negatives
Run time feels slightly bloated at 147 minutes. Plot structure is standard "rise and fall" fare.
Community Post: This article was submitted by a member of our community. Find out how you can publish your own writing here!Throughout time comic books have been known as a form of entertainment. Funny books some may call them in the past. People all over [...]

Community Post: This article was submitted by a member of our community. Find out how you can publish your own writing here!Yet another week comes to a close which means it's time for new music!! Each week a whole slew of new stuff is splooged onto the [...]

Community Post: This article was submitted by a member of our community. Find out how you can publish your own writing here!Hey kid! Like new music? Great! You've stumbled into the right rabbit hole. I'll tell ya what's good, what's bad, and what's a [...]