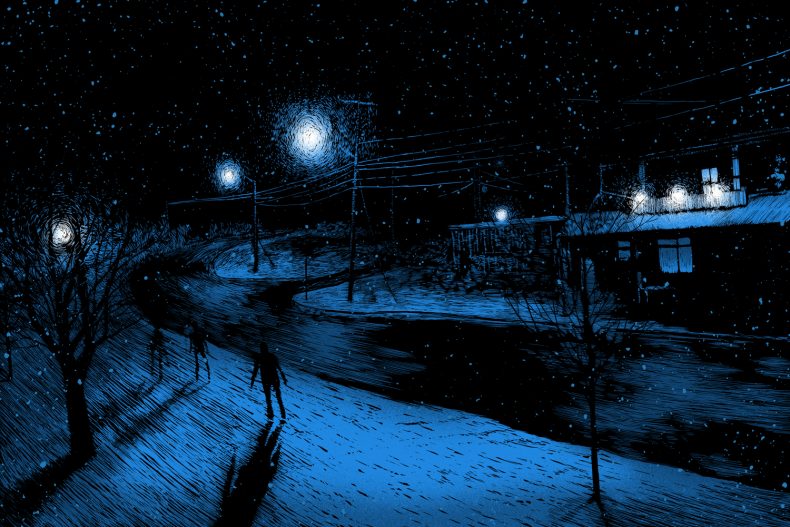 Community Post: This article was submitted by a member of our community. Find out how you can publish your own writing here!

Hello, and welcome back to The Underlooked, which I'm squeezing in now just to make it officially a monthly column! Here, we look at pieces of popular, unpopular, and mid-popular culture which I feel don't get enough attention. This week, the brilliant artist known only as Daniel Danger.
It has been a long time since the visual arts were anywhere near the center of western culture. We live in an age of unstoppable speed; we don't have time for our art to be static. Music, movies, television, even books and comics, all have a definite point at which the viewing and/or listening experience is over, and we are free to move along to the next distraction. A painting or a print, on the other hand, requires judgement on the part of the consumer: you decide when you are done looking at this still image, when you have absorbed all of its meaning, uncovered all its secrets. Almost nobody will undertake that anymore, which is why, in this day and age, it is remarkable when a visual artist is able to compete against all the other, more immersive forms of creativity, simply by the brilliance of their vision. It takes something really profound to cut through a world so bloated with entertainment, using only, in some ways, the least accessible medium.
Yet, here before us stands Daniel Danger. Arising out of rural New England like the punk-rock Lovecraft protagonist he was always destined to be, the spawn of a potter and a totem-pole maker, this man describes his real name as "An unpronounceable Polish mess", and so goes professionally by the name of Daniel Danger. A rather fitting name, given that in the world of popular culture the word "Dangerous" has often come to mean "New" or "Relevant", and, by that definition, there are few people working in the so-called "Fine arts" as Dangerous as this man.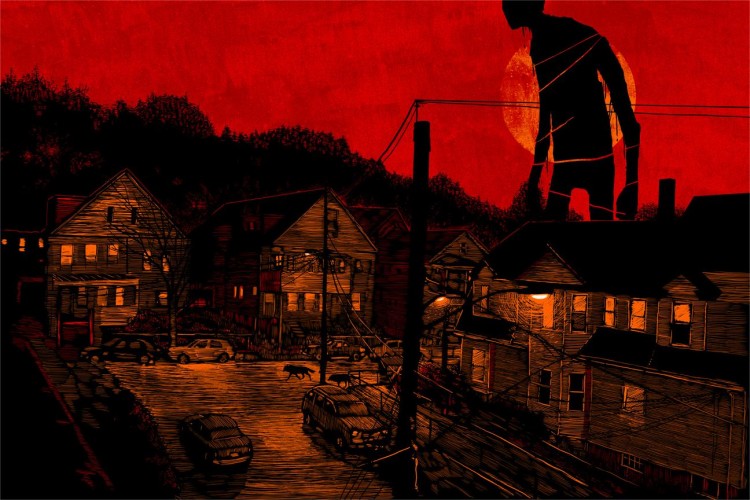 "Hear"
Danger's unmistakeable visual style is cloaked in shadow. The atmosphere he creates is heavy and chilling; glimpses into a world haunted by giants and wolves, where the snow brings with it silent walkers and there are secrets to found inside dense forests. Inspired by the illustrations of the books he read as a child, as well as the woods and fields he grew up in, his pieces often reflect the mindset of a child, confronting something they don't understand, or perhaps something they do understand, but we can't. Every picture is a moment in a story, but we are never given the context or the resolution, leaving just the tension and the mystery. Much of his work appears vaguely post-apocalyptic, but rather than the political implications most artists use those visuals for, here it's pure atmosphere and emotion.
The interplay between light and dark is astonishing: most of Danger's prints are so dimly lit that by all rights they should be a muddy mess, but they are so intricately constructed that everything is crystal clear. Danger often composes his images solely of black and one other color, usually blue, green, or red, but within that self-limited palette he finds all manner of shades and dimensions to work with. His world is never flooded with sunlight, but is also never consumed by darkness. It hangs in a perpetual, dream-like twilight, suiting the mysteries of the subject matter.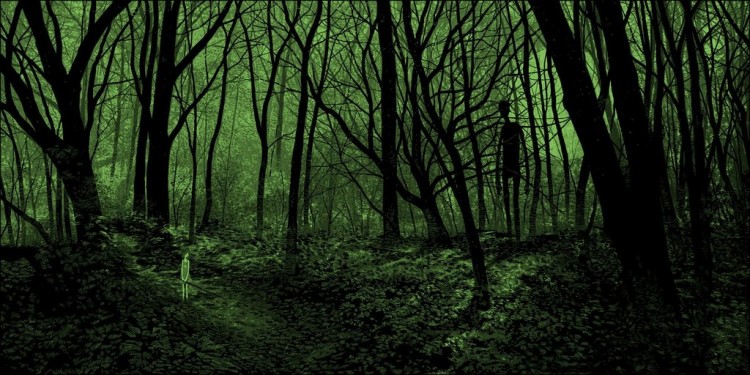 "Has thou slain the Jabberwock"
Daniel Danger's prints, and, occasionally, paintings, seem to capture moments of epiphany; the split-second in which the tiny humans found in the corners of his work become aware that they are in the presence of something beyond themselves, beyond anything they could ever comprehend. Sometimes it's something supernatural, like the giants or the ghosts, but sometimes it's simply the world we inhabit, with its vast, unimaginable possibility, which is daunting but thrilling to navigate. In the remarkable "I never had a plan for you", the sadness that hangs over whatever ritual the two children are performing seems to come from the very sky and trees around them, as if they are realizing, for the first time, the difficulty of the life they have ahead of them, whatever it may be.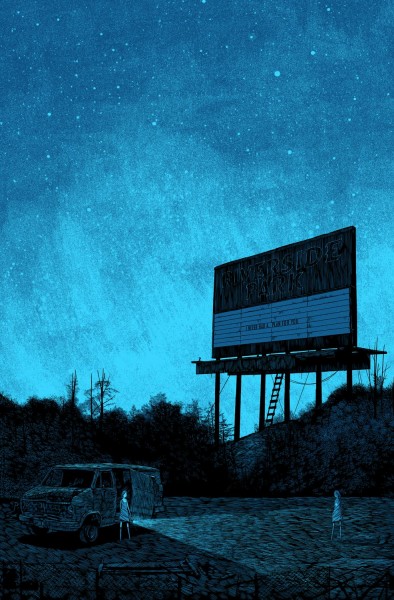 "I never had a plan for you"
Even with all the fantastical things which inhabit them, as well as their hyper-clarity, Danger's landscapes never feel entirely unfamiliar. His works depict the things we are waiting for when we peer into the silence of the night and feel as though if you are patient, something extraordinary will happen. The moments of revelation his characters go through are the releases of tension we are never, or rarely, able to experience. We always suspect there is something we're missing, something just a few paces into the trees, or just over the horizon, something indefinably more.  Danger's pictures are concerned with those things, whether they depict them at long last, as giants or spectral wolves or something stranger, or keep it just off the scene, as is the case in "I never had a plan for you". Sometimes, even, the revelation appears to be purely internal, a person discovering something within themselves so profound that it causes them to literally fly into the air.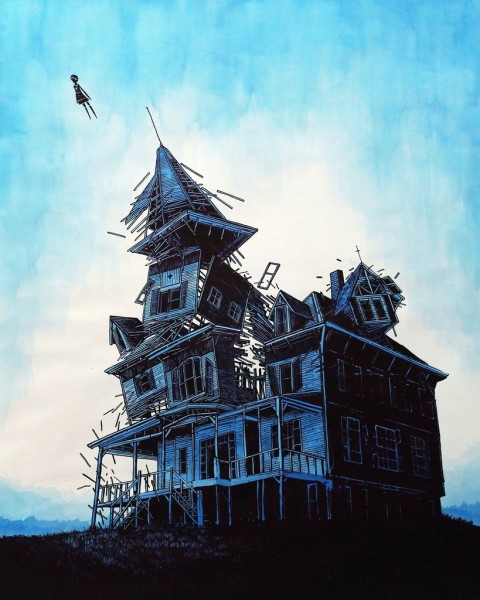 "Escape"
Daniel Danger has had some sweet gigs designing posters for bands and television shows, working with such high profile names as Breaking Bad, The Walking Dead, The Black Keys, The Decemberists, and Arcade Fire, but he has not gotten too much attention outside of that. His ever-growing body of work has been cruelly unappreciated, but he doesn't show any signs of giving up his art. For years, he has crafted masterpiece after masterpiece, eagerly exploring new images with which to better convey his terrifying hope. Even if he never becomes a household name (And let's face it, what visual artist can becomes a household name these days?), let us hope he continues for years, never compromising, quietly venturing on, back into the unknown countless times, always seeking the terrible and the beautiful.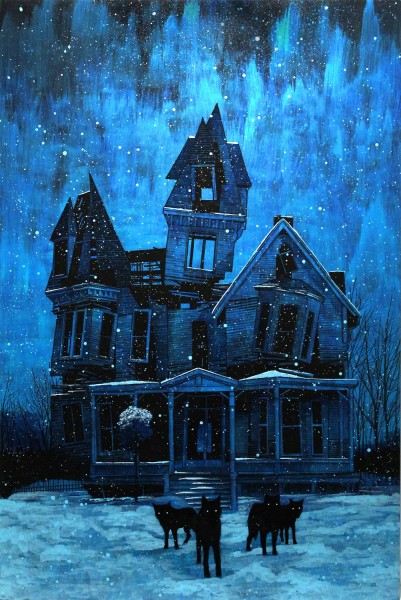 "Wet teeth in the darkness"
Top image: "I am a rabbit out of room".
Daniel Danger's website: http://tinymediaempire.com/
Community Post: This article was submitted by a member of our community. The views expressed are the opinions of the designated author, and do not reflect the opinions of the Overmental as a whole or any other individual. We will gladly cooperate in the removal of plagiarism or any copyright infringement. Please contact us here.
Community Post: This article was submitted by a member of our community. Find out how you can publish your own writing here!Throughout time comic books have been known as a form of entertainment. Funny books some may call them in the past. People all over [...]

The Visual Effects Society has revealed their annual awards nominations, ahead of the ceremony in February.

There might not be a real park themed around Blizzard Entertainment's portfolio of video games (just yet), but if there was, Blizzard World is a pretty captivating look at what it might be like.