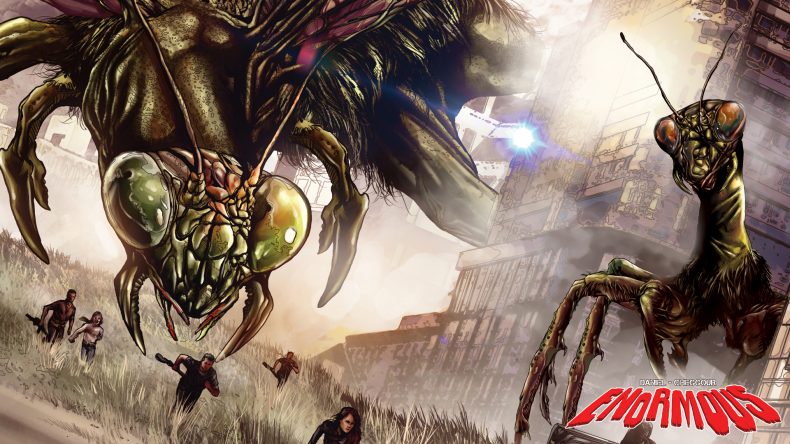 My awful attempt at clever titling aside, Fox is planning a new "event" miniseries that sounds pretty damn cool.
It's called Enormous, and it's based on a comic by the same name.
What's it about?
The comic is set in the aftermath of an ecological disaster that creates giant monsters. Here's the official synopsis:
Enormous tells the full tale of the aftermath of a vast ecological cataclysm which spawns colossal beasts unlike anything ever witnessed. Humankind stares down imminent extinction and the only law is to hunt or be hunted. It's survival of the biggest as the earth-shaking sci-fi action adventure continues. As the last vestige of humankind spirals towards annihilation, Ellen Grace leads the only remaining North American Search & Recovery Team through the deadly giant monster infested streets of Phoenix. However, she soon encounters another predator far more dangerous than the other-worldly creatures stalking the desolate city: her fellow humans.
So basically, The Walking Dead but with Kaiju instead of zombies.
How's the comic?
Unfortunately I haven't had a chance to read the comic, but it did get popular enough to become an ongoing series last year, so that's worth something.
If you want a taste of what the show might be like without reading the comic though, you're in luck, as was already adapted once before as a web series. Last year, Machinima produced a webseries pilot for an Enormous series written by Trollhunter's André Øvredal. Since then it seems that the studio has passed on creating a full series, but that might actually be good news.
How so?
Machinima has created some great work, but online content still has a ways to go before it catches up with the budgets of network TV. That doesn't mean there aren't some amazing shows online that are way better than 99% of anything on TV (I mean look at Video Game High School), but for a series that centers around a world full of giant monsters, I think a big budget is going to go a long way.
Fair point, so how far along is Fox's miniseries?
Deadline reports that the network is currently looking for a showrunner. A pilot script, cast, and director will follow once that is nailed down. So in short, they're not very far along, and we probably won't be seeing this show until 2016 at the earliest.
In the meantime, can I watch that webseries pilot online?
You most certainly can:

After over 12 years off the air, The X-Files is finally returning for a six-episode miniseries this weekend.

Community Post: This article was submitted by a member of our community. Find out how you can publish your own writing here!Fox is committed to remaking a TV show from the 80's with an amazing intro song. Community Post: This article was submitted by a [...]

September is here, which means summer is finally drawing to a close. Don't be sad about the lack of sun though, there are more than a few reasons to stay inside as those temperatures begin to drop.