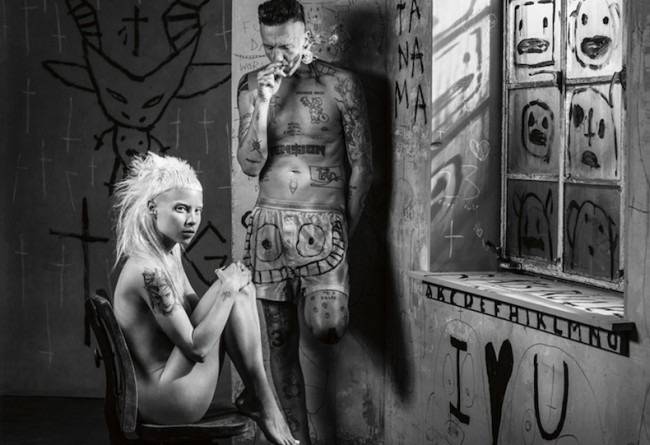 Community Post: This article was submitted by a member of our community. Find out how you can publish your own writing here!

Hey there music lover! You like new stuff? Great! You've stumbled into the perfect corner of the internet.  Each week all sorts of audiolicious goodies are unleashed onto the masses and this is where they come to be judged. I'll tell ya what's good, what's bad, and what's a waste of your precious time. So strap on your headphones and let's take a ride!
The Big News
Last week was a big week, what with the new Nick Cave masterpiece, new Woven Hand, among other great new releases. This week is just as big. Most importantly, the new Die Antwoord rekkid, Mount Ninji and Da Nice Time Kid, the super freaky South African duo's first since 2014'd Donker Mag.
Everything Else
Ok, so it appears as though we've been relegated to only posting in the community section of this website as I seem to have lost access to the category feature in my account. So, like, whatever, man. If anyone cares, I am looking for a new place to post but I'm also very, very lazy and resistant to change. So for now, I'll just be here in the tiny little community section.
New Usher, his firs since 2012.
Tidal Wave is the seventh Taking Back Sunday record.
Braver Than We Are is the thirteenth record from Meat Loaf.
New Against Me!
Dawes comes back to life.
And here's the new Cymbals Eat Guitars.
Last but not least, Touche Amore.
RIP
This is the part where we say goodbye to those who've hit their last high note. Rock on and rest in peace, brothers and sisters.
Leonard Haze, drummer of Y&T.
Ska master Prince Buster.
Singer Clifford Curry.
My Recommendations
Always loved everything Phantogram has ever done. Still feel that way. Third is junior effort from the New York duo.
Next Week!!
Tune in next week, same new music time, same new music channel, for new stuff from Neurosis!!!!
Community Post: This article was submitted by a member of our community. The views expressed are the opinions of the designated author, and do not reflect the opinions of the Overmental as a whole or any other individual. We will gladly cooperate in the removal of plagiarism or any copyright infringement. Please contact us here.

Community Post: This article was submitted by a member of our community. Find out how you can publish your own writing here!It's the holidays, so like it or not, you're going to be inundated with tons of crappy songs about reindeer and jolly old Saint [...]

Hey there music lover! You like new stuff? Great! You've stumbled into the perfect corner of the internet.  Each week all sorts of audiolicious goodies are unleashed onto the masses and this is where they come to be judged. I'll tell ya what's good, [...]

Hey there music lover! You like new stuff? Great! You've stumbled into the perfect corner of the internet.  Each week all sorts of audiolicious goodies are unleashed onto the masses and this is where they come to be judged. I'll tell ya what's good, [...]