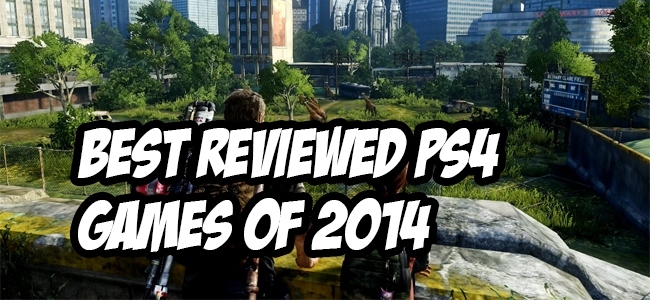 It's been just a hair over a year since the PlayStation 4 debuted in 2013, and with about 12 months of games behind us now, we can finally get a pretty good look at what some of the console's top titles are.
Update: You can also check out the 10 best-reviewed Xbox One games here.
A few observations:
There was an even split, right down the middle, between big publisher and indie games.
In the AAA  camp, only 1 out of the 5 was a game that was available on the PS4 during its initial release. The other 4 were available in some form or another on other consoles or the PC first (so re-releases/remakes basically).
No "annualized" franchise entries (Call of Duty, Assassin's Creed, etc.) made the cut in any form.
And as a final note, we measured "best reviewed" using the average of the game's MetaCritic and GameRankings score. It will be interesting to compare these rankings to the sales figures for 2014 once those are in the books.
All of that being said, here are the 10 best reviewed games on the PS4 so far.
1. Grand Theft Auto V
GameRankings: 94.89
MetaCritic: 96
Grand Theft Auto V was a huge critical and commercial success when it launched on last-gen consoles last year. Its transition to current generation systems seems to have gone pretty smoothly, with its review scores almost identical to the previous batch.
2. The Last of Us Remastered
GameRankings: 95.7
MetaCritic: 95
Surprise surprise, one of the PlayStation 3's best games only got better with fresh layer of graphical polish. In addition to overall improved visuals, the Remastered edition included native 1080p display at 60fps, new audio options, a director commentary track, and the previously-released DLC content.
3. Diablo III: Ultimate Evil Edition
GameRankings: 91.25
MetaCritic: 90
This re-release of Diablo III and its expansion pack, Reaper of Souls, included bonus content for PlayStation owners inspired by The Last of Us and Shadow of the Colossus.
4. Rayman Legends
GameRankings: 90.45
MetaCritic: 90
Rayman Legends was one of the best-reviewed platformers of 2013, although it took another five months before it became available on current-gen systems (outside of the Wii U that is). That wait apparently didn't hurt it much, as the PS4 port was among the most well-received versions of the game.
5. Dragon Age: Inquisition
GameRankings: 90.52
MetaCritic: 89
Dragon Age is notable for being the only AAA title on this list that isn't a re-release, remake, or delayed release of some kind. The PS4 version launched right alongside the PC, PS3, Xbox 360, and Xbox One releases earlier this month, and quickly became one of the best-reviewed RPGs on any console this year.
6. Minecraft: PlayStation 4 Edition
GameRankings: 89.50
MetaCritic: 89
Minecraft finally made its way to the PS4 this year, and despite the fact that it's been available on other systems for over three years, reviewers still ate it up. Along with the PS4 release, Minecraft was also ported to the PS3 and PS Vita this year as well, bringing the game's running total to 14 distinct platforms/operating systems.
7. Fez
GameRankings: 88
MetaCritic: 90
Phil Fish might have quit the gaming industry, but new versions of Fez keep coming out. Two years after its initial release on Xbox 360, the game finally arrived on PS4 in 2014. Don't feel left out though PlayStation gamers, the Xbox One still hasn't gotten a port (and probably never will).
8. Guacamelee! Super Turbo Championship Edition
GameRankings: 89.57
MetaCritic: 87
Guacamelee came out of nowhere last year to become one of the most-downloaded titles on the PS3 and PS Vita. After a quick stop-over on the PC later that year, the game has finally arrived on the PS4 with the Super Turbo Championship Edition. The re-release includes additional levels and bosses, as well as the previously released DLC.
9. The Binding of Isaac: Rebirth
GameRankings: 88.33
MetaCritic: 87
Rebirth is a remake of the original Binding of Isaac that launched simultaneously on the PS4, PS Vita, and PC (no word yet on an Xbox or Wii release). The game includes all of the content from the original and its expansion, as well as additions including a brand new final chapter and ending. Interestingly, some of the new stuff is content that was cut from the original game due to the constraints of the Flash engine.
10. TowerFall Ascension
GameRankings: 87.61
MetaCritic: 87
Rounding out our top 10 is yet another re-release. Unlike the previous entries though, this one wasn't originally released on the usual suspects. Instead, it launched in 2013 as an Ouya exclusive. Probably realizing that was a bad idea, the developers ported the game over to the PS4 and PC earlier this year, signing a console exclusivity contract with Sony in the process. The re-release, dubbed Ascension, included new levels, gameplay variants, and an expanded single-player mode.

Community Post: This article was submitted by a member of our community. Find out how you can publish your own writing here!Thanks to impatient fan and datamined audio files, the 6 mystery DLC characters for the Street Fighter V have been leaked to the [...]

Kingdom Hearts will be getting a third HD collection, titled Kingdom Hearts HD 2.8: Final Chapter Prologue. Square Enix has clearly realized they can name these things whatever they want, and are just rolling with it.
Despite a small hiccup at the beginning of the Uncharted 4 presentation at the Sony Press Conference, the game looked like the kind of high-octane action that we've come to expect from the franchise. But what if I told you that there was a whole [...]