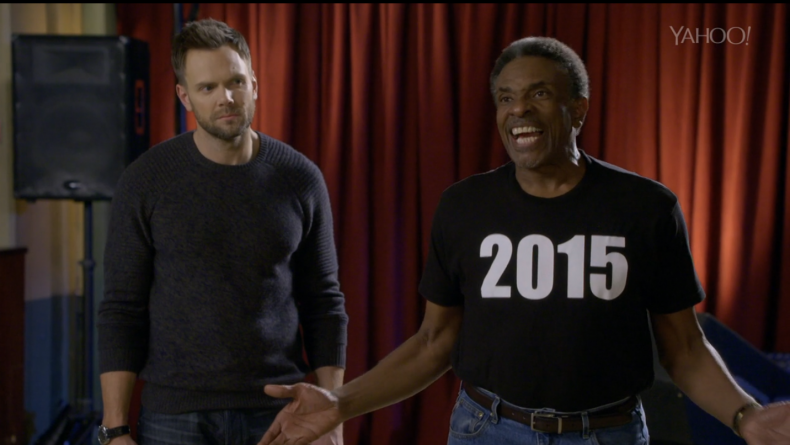 Community Post: This article was submitted by a member of our community. Find out how you can publish your own writing here!

Full Spoilers Ahead
In their own twists on reality, Community went an even more meta route than usual by delivering a whole episode based on Sony's own hacking debacle during late last year's release of "The Interview". While this episode would have done better off being aired earlier while the incident was still fresh in our minds, the episode did an admirable job parodying the events. Also considering Sony Pictures produces and distributes Community I applaud them for revisiting this issue since it was such a serious concern at the time.
This week's episode was mostly a Britta centric episode but featured a lot of great moments from the rest of the cast. The premise was very similar to how events transpired in real life with hackers threatening to leak the group's personal emails if they let a controversial comedian perform at Greendale. In a revival of old Britta traits she took the initial stand against the censorship and convinced the rest to do the same. Britta has shown to be one of the stronger characters this season and continued to do so with moments like her announcement speech to the school.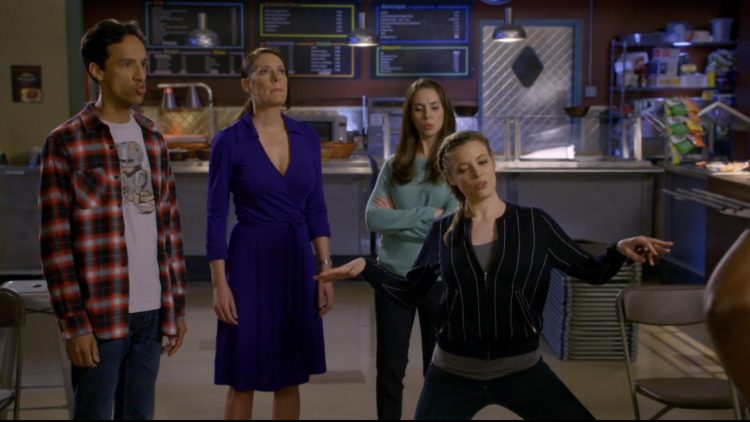 Of course this lead to fallout in the group. Without a doubt the highlight of the episode was everyone meeting to prepare for the comedian's show with the underlying hositility between each other. Despite a promise of "no peeking at the leaking" our character's couldn't resist (with the exception of Abed) and were exposed to all the nasty things they have said about each other. While this scene may have ran long for some viewers, it was filled with laughs throughout. Thing's that still stand out in particular for me were Jeff writing emails to astronauts he admires ("They're national heroes!") and the big meta moment of the new members of our group finding out that they used to be a study group with Chang as their teacher ("That's right, and frankly haven't been well utilized since").
The recurring characters of this week were great as Officer Cackowski (Craig Cackowski) and Neil (Charley Kootz) both made their returns. Both had their own share of enjoyable bits, most notably Cackowski's  "Avengers? Avengers? Avengers?" bit. Jay Chandrasekhar took on double duty as both the director of this episode and playing offensive comedian Gupta Gupti Gupta. Only Community could make his scenes as Gupta Gupti Gupta and his terrible racist/anti-Semitic/fat jokes directed at poor Neil draw so many laughs.
Despite it not being "the golden age" as Abed would say, the show still consistently puts out good material. Paget Brewster and Keith David are really finding their place in the group dynamic with their great performances. With strong contributions from the new and the core cast, Community is easing into it's modern age with grace.
Community Post: This article was submitted by a member of our community. The views expressed are the opinions of the designated author, and do not reflect the opinions of the Overmental as a whole or any other individual. We will gladly cooperate in the removal of plagiarism or any copyright infringement. Please contact us here.
Positives
- Fighting over emails scene
- Britta coming back into her own
- The return of Neil and Officer Cackowski
- True Detective ending

Community Post: This article was submitted by a member of our community. Find out how you can publish your own writing here!Yet another week comes to a close which means it's time for new music!! Each week a whole slew of new stuff is splooged onto the [...]

Community Post: This article was submitted by a member of our community. Find out how you can publish your own writing here!Hey kid! Like new music? Great! You've stumbled into the right rabbit hole. I'll tell ya what's good, what's bad, and what's a [...]

Community Post: This article was submitted by a member of our community. Find out how you can publish your own writing here!2013 winner of NMW's best album of the year, Neko Case, returns from a five year vacation from solo work next week, offering [...]