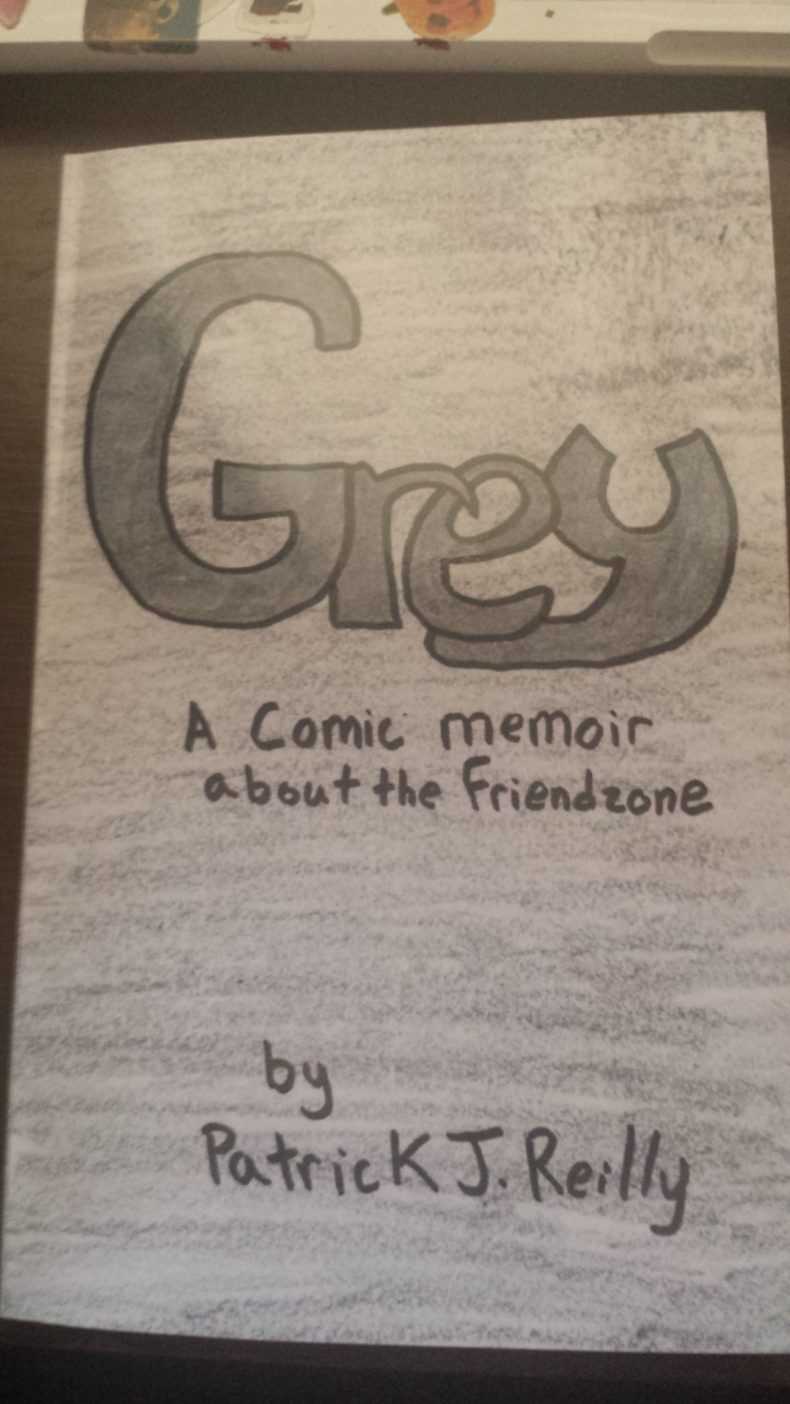 Community Post: This article was submitted by a member of our community. Find out how you can publish your own writing here!

"Grey" A comic memoir of being in the friend zone. I received a package from New York from a friend of mine and fellow writer and creator from Pronto Comics the other day. The package was an assortment of Patrick J. Reilly's comics that he has done. The packaged was marked for Dez Demise with a little drawing of Patrick in the back on a lime green envelope stamped with batman stamps..AWESOME. I thought. So when I had opened it I was totally stoked. Patrick recently wrote a Graphic Novel book called "GREY." Which was enclosed in the package as well as his diary comics "Me" which I might add are fucking brilliant. I was heavily intoxicated off some of my favorite red wine when I began to read GREY. This story as I said is a tale about being in the "friend zone" in relationships. It was fucking amazing. I don't know if it was because I was drinking and things seem to make sense to me at said times but I did get it. I have been in the same boat as well. Reading a story based on that from someone else's perspective in their own personal story I really dig it. I felt as if I was telling a story from my own life. I thought to myself, "Holy shit is Patrick reading my mind and had he searched through my memory files and wrote a story about it? It must be sorcery!" This story was that close in comparison to an experience of my own. Creepy.
I had some questions after reading the book a couple times because I just needed to know more. I had asked Patrick when he had written "GREY" just how did he feel about it and was writing this a form of letting go of the past and moving on? I had also asked him if he was in love whilst writing this book?
He replied: "Yes, I was just talking about this. I had a string of bad relationships and it would always go bad to this shitty thing so, I wrote this as a way to coupe and oh man, it helped because now its just a story to tell."
Personally, when I write about an old relationship or whatever Its a form of letting go of what I once had and accepting the new and moving on. Feeling better that I let that baggage go away from my head and my life and get a little laugh about it as I write about it. For every experience is a story. From what I understood from 'GREY" he did just that. In my mind, which for one is very therapeutic and lifting to be able to transform this memory into something people can read and relate to. In my experiences during those moments are usually no laughing matter but what Patrick did was make his story of "GREY" something to have a giggle about because it is real stuff and most of us have been in that dreadful Son-of-a-bitch friend zone. Yeah, it fucking sucks to be in that situation. It changes people for the better sometimes. Also makes you do stupid things that you will probably regret later in life. I know because I have.
I had also asked Patrick if he was currently in a relationship? Does he think that the person who he wrote the story about would read it? And what ever happened to "GREY"?
He Replied: "I just got out of a relationship but it was a healthy relationship till the end. If "grey" read it I don't know what would happen. haha, we're Facebook friends so it is possible. I saw her once after we stopped talking. She was okay, I don't really know how she is."
Questions were answered. I wasn't sure on what to expect from this book honeslty. I thought it was gonna be one of those "haha" funny books. It was real stuff though. Not only written by Patrick J. Reilly but drawn by him as well and edited by Jon Gorga. The drawings is what really makes it more awesome. I believe this is a great and interesting book. It is for mature readers of course but those of us who are suitable to read it I suggest you pick one up today. Sit down take a read and do what I did, read it again.
"GREY" as well as other books by Patrick J. Reilly can be purchased at on Amazon kindle on may 6th and you can get Patricks books at NoiseTrade.com.
Patrick J. Reilly's Bio:
PATRICK J. REILLY I'm a comedian who also writes comic books like WATCHMEN, FABLES, WALKING DEAD and other things I haven't written… Brooklyn, America Me-Comic.tumblr.com @NotPatReilly/twitter.com
Community Post: This article was submitted by a member of our community. The views expressed are the opinions of the designated author, and do not reflect the opinions of the Overmental as a whole or any other individual. We will gladly cooperate in the removal of plagiarism or any copyright infringement. Please contact us here.
Positives
Good read. Most people can relate.
Negatives
For Mature readers.

The DC movie universe is not quite as expansive as Marvel's, but with seven films under their belt, it's already become quite expansive.

John Francis Daley and Jonathan Goldstein, the screenwriters on Sony/Marvel's Spider-Man: Homecoming, have been hired to direct the upcoming Flash movie.

Community Post: This article was submitted by a member of our community. Find out how you can publish your own writing here!First of all, I am going to write about the movie Wonder Woman here, and before I do, I want to make something clear: I [...]