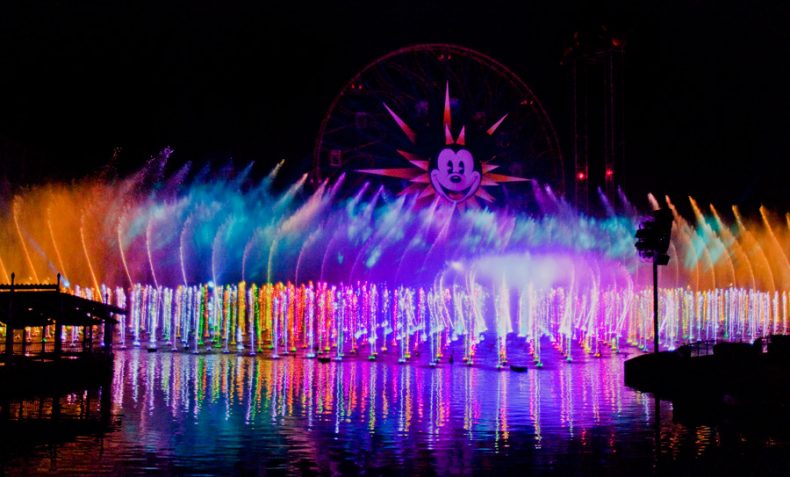 Rides may be the biggest attraction of theme parks, but they've been known to put on some pretty spectacular shows. Stage performances, live musicals, and fireworks shows have all been part of Disney's brand for years. But now that they've acquired new properties, many wondered how they'd incorporate them into their parks.
Recently, Neil Patrick Harris co-hosted the light show "World of Color" show at Disney California Adventure. Using a combination of illuminated water and projections played against fog, the show makes for a wonderful and beautiful visual show.
And, of course, Star Wars showed up for a bit:
No doubt they put an emphasis on material from The Force Awakens to help bolster hype for the upcoming film. The fog projections play quite well here, in a way making it feel like holoprojections from the movies.
If you're curious about the entire show, here it is:
As for other Star Wars attractions, Disney has a few that are actually worth your time. First, there's a one man show by Warwick Davis: "An Ewok's Tale: My Short Story." The voice of Obi-Wan in Clone Wars, James Arnold Taylor, has a show about voice acting. There also seems to be a live, on stage Star Wars Rebels show.
For a full list of Star Wars related activities at Disney's Star Wars weekends, check here.

The Star Wars galaxy is about to get a whole lot bigger.

A few hours ago, Disney released a press kit for their 2018 slate. In it, we've gotten our first official description of what exactly this year's Star Wars installment is going to be about.

Today, The Force Awakens beat out Avatar to become the highest-grossing movie in the U.S. of all time. That being said, it has a long way to go if it's going to top Avatar's worldwide earnings.