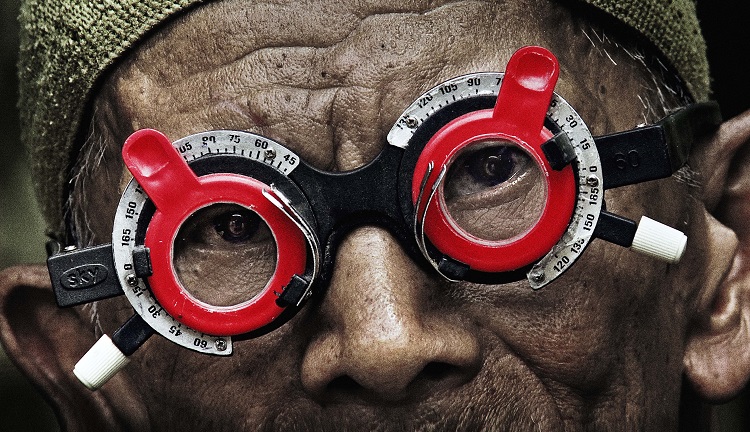 Community Post: This article was submitted by a member of our community. Find out how you can publish your own writing here!

Our first view of Adi is in front of an old television. Stone-faced, he watches two old men reminisce about the old days. The times when they were guards during the witch hunt for Indonesian communists. How they laughingly killed hundreds of people in the name of ideology and power during the 1965 -66 Indonesian genocide.
Adi's brother was one of their victims and his search for answers forty years later is the subject of The Look of Silence, a powerful new documentary by Joshua Oppenheimer. While it doesn't have the visceral pop of his earlier work, The Act of Killing, this intensely personal story of loss and redemption works on a lower frequency. Harder to hear but just as powerful and stirring.
The documentary follows Adi as he searches for answers to his brother's death from the mouths of those responsible. Through his work as a traveling optometrist, Adi confronts many of the men responsible for the 1965 genocide and asks them direct, tough questions. Through these conversations and the recollections of those affected by the killings, including his mother and invalid father, Adi pieces together his painful past.
The central narrative drive of The Look of Silence is Adi's interviews with the Indonesian leaders. Many of them continue to have prominent political roles in Adi's community, which makes the questionings pulse with tension. The reactions of the leaders are mixed and accurately depicts a range of emotions. Themes of duty versus morality pop up constantly and are plainly shown without manufactured drama.
That's not to say the film doesn't twist the emotional knife. Moments between Adi's mother and his painfully disabled father are devastating to watch and the leader's casual commentary on war atrocities deliver the right amount of shock. The pace is slower and more contemplative than Killing, but this allows the personal stories to resonate deeper.
On the very tiny minus side, the lack of a central villain figure makes the film feel a bit one sided. While this is most likely a by-product of Oppenheimer getting little from Adi's interviewees, I would have liked to learn a bit more about the motivations behind the killings. This would have fleshed the leaders out as multi-facted characters, not the heartless monsters they come off as (even though they probably are).  And although Silence fills in the spaces with arty metaphors (looking through lenses, etc), it never detracts from the real life drama.
When researching this review, I started to type "Indonesian" into Google's search bar. The first auto result? Indonesian genocide. Not food, not restaurants, not history. A Wikipedia article on the senseless killings Oppenheimer documents in this heartbreaking film.
While Google may have remembered my ticket purchase and adjusted my results accordingly, I like to think it's a product of a new-found awareness spurred by Oppenheimer's stirring, searing documentary. Framed in the personal, tragic story of a son looking for answers, The Look of Silence is a deeply human story that brings a horrifying yet oft forgotten piece of modern history to vivid, terrifying light.
Community Post: This article was submitted by a member of our community. The views expressed are the opinions of the designated author, and do not reflect the opinions of the Overmental as a whole or any other individual. We will gladly cooperate in the removal of plagiarism or any copyright infringement. Please contact us here.
Positives
Takes a little known yet horribly disturbing event and presents it in an honest, personal framework. Interviews brim with tension and the story is delivered in an unflinching manner.
Negatives
Many of the film's "villains" feel one dimensional. A few of the artier elements feel like beautiful yet forced filler.
Community Post: This article was submitted by a member of our community. Find out how you can publish your own writing here!Throughout time comic books have been known as a form of entertainment. Funny books some may call them in the past. People all over [...]

Community Post: This article was submitted by a member of our community. Find out how you can publish your own writing here!Yet another week comes to a close which means it's time for new music!! Each week a whole slew of new stuff is splooged onto the [...]

Community Post: This article was submitted by a member of our community. Find out how you can publish your own writing here!Hey kid! Like new music? Great! You've stumbled into the right rabbit hole. I'll tell ya what's good, what's bad, and what's a [...]