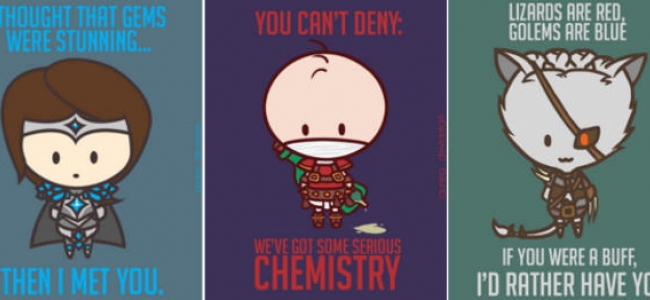 Happy Valentine's Day, easily my second favorite holiday of the year.  While the mountains of chocolate and flowers I receive1 are fantastic, the best part of the holiday are the amazing cards.  deviantART user Jaunea made multiple, adorable League of Legends cards just in time for you romantic geeks out there.
Jaunea started the project last year and, because it was well received, continued by producing ten more for 2014.  They're corny and dorky, but celebrate exactly what VDay cards are about.
To check out more of the cards, head on over to Jaunea's LoL Valentine's Day gallery.
1Buy for myself.  Sorry…

Move over Infinity War, there's a new crossover event in town.*

I stumbled across this piece of amazing fan art earlier today, and now I can't stop thinking about how great a Kate Bishop/Hawkeye Netflix series would be.

Today's fan art spotlight goes to Jeff Victor, and his incredibly cute take on Star Wars. I mean seriously, that Yoda is so adorable it's physically painful to me that he's not in my backpack.